ELEANOR HOLLAND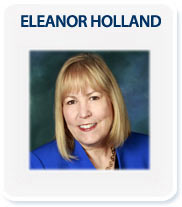 Since 2008, Eleanor has serves as the Senior Capture Specialist for True North, a Port Huron, MI based Government contract consulting business. She specializes in training and coaching client companies in the various aspects of Defense and other government contracting. This covers many issues including finding and responding to contract opportunities, writing successful proposals, understanding Defense-unique requirements for quality assurance, packaging and marking, critical weapon system data management, the DoD internet-based payment process, and export control compliance with the International Trafficking in Arms Regulations (ITAR) and the Export Administration Regulations (EAR).
Prior to joining the True North team, Eleanor served for five (5) years as the Director of the Office of Small Business Programs at Defense Logistics Agency (DLA) Land and Maritime in Columbus, OH. DLA Land and Maritime is DoD's Supply Chain Manager for consumable and repairable spare parts used on Land and Maritime Weapon Systems. This includes over 2 million items for vehicles, guns, ships, missiles as well as electronic spare parts. DLA Land and Maritime annually awards approximately $3 billion in contract dollars with nearly than 60% going to small business and manufacturers.
Eleanor has held a number of other positions at with the Defense Logistics Agency during her 28 year career. She managed several Long Term Contracting Teams from 1999 to 2003. Prior to that, she was Chief for Procurement Policy at Columbus from 1997 to 1999. Eleanor was a Procurement Analyst in Procurement Systems Office at Headquarters DLA in Ft. Belvoir, VA from 1994 to 1997. Before transferring to DLA headquarters, she held a number of contracting positions at Defense Electronics Supply Center, formerly in Dayton, OH.
Eleanor holds a Bachelor of Science degree in Business Administration from Wright State University in Dayton, OH and a Master Degree in Logistics Management from the Air Force Institute of Technology in Dayton.