Liz Roe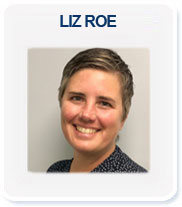 Liz Roe is a twenty-year veteran of the government and nonprofit space with a proven track record of delivering results for her clients and colleagues.
In 1996, Liz began working in the office of state government affairs for Michigan Governor John Engler. In her role as Executive Assistant to the Director, she interacted daily with governor's cabinet officials and their staff, and had a front row seat to cabinet and administrative bureau meetings with the Executive Office. From 1998 to 2000, Liz served in a dual role as the assistant to the Speaker of the Michigan House of Representatives and the Chief of Staff (COS) of the House of Representatives. She served as the key point of contact for the Speaker of the House and COS with other lawmakers, public elected officials, staff, and representatives of interest organizations.
After briefly working in the Michigan Department of Treasury, a family move to Washington, DC, prompted Liz to move into the lobbying realm. From 2003 to 2014, she served in various roles within the Government Affairs Division of the American Academy of Physician Assistants (AAPA), the only national organization representing the over 100,000 certified physician assistants (PAs) in the United States. In her position, she served as the main staff contact and advisor for state government affairs issues in the North Central and South Central regions of the US. She investigated and analyzed proposed legislation, regulations and existing laws for their legal ramifications and policy impact on PA practice and patient access to care. She also provided technical assistance to AAPA's constituent chapters and individuals on state legislative and regulatory issues and strategies, including long-term and short-term strategic planning based on their advocacy goals. She drafted decision memoranda and ancillary documents that included white papers, statutory and regulatory summaries and model legislative or regulatory language. This workload required her to manage multiple deadlines and obligations based on the legislative and regulatory calendars of 19 states.
Liz also served as staff policy lead on specific issues related to PA practice such as pain management, PA use of radiation, and retail clinic practice, and assisted in preparing AAPA board of directors and other staff leaders in their interactions with national thought leaders in field of medicine and health care policy.
In 2014, Liz left the government relations space and moved into the realm of nonprofit development and fundraising. As the Development Director for Lutheran Special Education Ministries (LSEM), she was responsible for reviving the fundraising efforts of a 150-year old nonprofit organization. This included drafting and executing a development plan, setting fundraising goals and working with her team to write grant proposals, meet budget targets, and establish a social media presence.
In 2017, Liz launched Liz Roe Solutions, a consulting firm specializing in nonprofit communication, development and project management. This led her to True North Consulting, where she is using these talents–and her vast knowledge of state and federal government–to think outside the box for clients.
Liz holds a bachelor's degree in French, with a minor in economics, from Michigan State University, and a master's degree in Public Administration from Grand Valley State University.