LIEUTENANT COLONEL THOMAS T. HUFF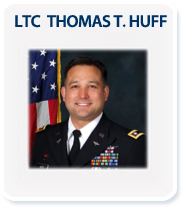 Thomas T. Huff, Lieutenant Colonel, U.S. Army (Ret) serves as a Government Contracts Advisor and conducts executive representation on behalf of True North clients.   He is an expert in DoD acquisition, the Federal Acquisition Regulation (FAR), Defense Federal Acquisition Regulation Supplement (DFARS), as well as Army aviation-related topics.
During his long and distinguished Army Career, LTC Huff held many critical positions.   At his last assignment in 2014, LTC Huff's served as the Aviation Rockets and Small Guided Munitions (ARSGM) Product Manager at Redstone Arsenal, Alabama.  Prior to that assignment,  LTC Huff deployed to Kabul, Afghanistan and served 10 months as the USFOR-A Acquisition Advisor.  LTC Huff  served as the Assistant Product Manager for the MH-60 Special Operations Black Hawk Helicopters Product Management Office Fort Eustis, Virginia for three years. In 2004, LTC Huff was stationed in Huntsville, Alabama, where he served for three years in the Utility Helicopters Project Office, as an Assistant Project Manager for Training and Simulation.  Prior to these assignments, LTC Huff held assignments in Ansbach, Germany and was deployed to Bosnia-Herzegovina.
LTC Huff received his Master of Science degree in Materiel Acquisition Management from the Florida Institute of Technology at Fort Lee, Followed by CGSC-ILE at Fort Belvoir, Virginia.
LTC Huff's awards and decorations include the Legion of Merit, Bronze Star Medal, Meritorious Service Medal (with 3 Oak Leaf Clusters), Joint Service Commendation Medal, Army Commendation Medal, Army Achievement Medal (with Oak Leaf Cluster), National Defense Service Medal, Armed Forces Expeditionary Medal, Armed Forces Service Medal, Humanitarian Service Medal, Army Service Ribbon, Overseas Service Ribbon, NATO Medal, Parachutist Badge, Air Assault Badge, and the Senior Army Aviator Badge.