DAVE BRISTOL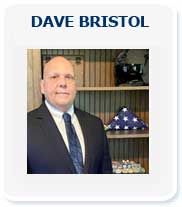 Acquisition Integration President & CEO
Mr. Bristol has over 27-years of U.S. Army service with proven leadership experience in aviation operations, maintenance, and acquisition. As a retired Lieutenant Colonel, Dave has extensive professional experience with managing complex Department of Defense weapon system programs within established cost, schedule, and performance metrics valued over $6B. As a business professional, he provides creative and cost-effective solutions to resolving challenging problems.
Mr. Bristol has a B.S. Degree in Aeronautical Science, and he earned a Master's Degree in Management with a concentration in Acquisition and Contracting. He is a member of the U.S. Army Acquisition Corps and is certified DAWIA Level 3 in Program and Contract Management. He also holds a Federal Aviation Administration commercial pilot license with instrument rating in multi-engine airplanes and helicopters.
Professional strengths:
Proven leader who effectively develops and inspires team members to achieve peak results within a dynamic management environment.
Keen tactician within the US Defense, Foreign Military and Commercial industries, with an in-depth knowledge of government and commercial business.
Coalition-builder who seeks external input, while standing on solid principles and supporting, encouraging, and maintaining a sense of community.
Highly respected military professional with Army Acquisition program and management expertise, lending to business insights that leverage experience and reliability.
Approachable, temperate, patient, and fiercely driven to obtain genuine results.
Specialties:
* Project/Program Management * Federal Contracting * Federal/Defense Acquisition Regulations * Department of Defense Acquisition Framework * Joint Capabilities Integration & Development System * Platform Life Cycle Management * System Engineering & Integration * System and Component Test & Evaluation * Foreign Military Sales * Strategic Planning * Risk Management * Course of Action Development * Strategic Planning * Earned Value Management * Government Proposals * Business Case Development * Materiel Maintenance Management * Communications * Technical Writing * Budget Development, Analysis & Management * Aviation & Ground System Operations & Maintenance Management * Integrated Logistics Product Support * System Fielding & Training
Key Leadership Positions:
Deputy Project Manager, U.S. Army Multi-National Aviation Special Project Office
Product Manager, U.S. Army Light Utility Helicopter
U.S. Army Program Executive Office – Aviation Acquisition Lead for Future Vertical Lift
Assistant Product Manager, UH-60 Helicopter Systems Integration
Assistant Product Manager, Unmanned Systems Universal Ground Control Station
Assistant Product Manager, Small Unmanned Aircraft
Warranted Contracting Officer, 3rd Infantry Division
Chief of Staff, U.S. Army Contracting Agency – Northern Region