EMMITT RODRIGUEZ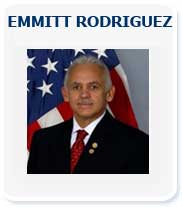 Acquisition Integration Vice-President, Technology and Sustainment Strategies
Mr. Rodriguez is an astute business professional with over 40 years of Defense and Commercial Technologies Program Management experience. His experience encompasses guiding complex weapon system programs up to $1.5B annually in dynamic US Government and International Defense Industry environments. Emmitt has a proven and highly recognized history leading, training, mentoring and complex problem solving.
Mr. Rodriguez a graduate of St. Louis University with a B.S. Degree in Aeronautics and the U.S. Army War College where he earned a Master's Degree in Strategic Studies. He is a member of the U.S. Army Acquisition Corps and is certified DAWIA Level III in Life Cycle Logistics. He also holds a Federal Aviation Administration Airframe and Powerplant Technician Certificate.
Professional Strengths:
Genuine leader with adaptive management style who effectively develops and motivates teams to achieve measurable results.
Strategist with a keen sense of what it takes to grow and develop business within the US Defense , Foreign Military and Commercial industries.
Relationship-builder with solid core values and a strong sense of community.
Highly successful Program Manager with strong business acuity and creative problem-solving skills.
Specialties:
* Project/Program Management * Foreign Military Sales * International Business Development
* Strategic Planning * Federal Contracting * Risk Management * Creative Solutions Development
* Strategic Planning * Materiel Maintenance Management * Communications * Budget Analysis and Management * Aviation Maintenance Management
Key Leadership Positions:
Director of Logistics – US Army Multi-National Aviation Special Project Office
Project Manager – US Army Aviation Reset Program
Chairman – US Army Source Selection and Evaluation Board for the Royal Saudi Land Forces Aviation Command Maintenance Service Support Contract
Chief of Staff – US Army Materiel Command Responsible Reset Task Force (R2TF)
Director – US Army Aviation Resource Assessment and Analysis Directorate
Director ofMaintenance – US Army Europe Logistics (G4)
Aviation Director, US Army Europe Logistics (G4)
Foreign Military Sales Case Manager – Royal Netherlands Air Force AH-64A/D Apache/Longbow Helicopter Program
Chairman – US Army Source Selection and Evaluation Board for the T800 Turbine Engine Training Program
Training Systems Manager – U.S. Army AH-64D Longbow Helicopter, OH-58D Helicopter, Air-to-Air Stinger Missile System, T700 Turbine Engine and Aquila Remotely Piloted Vehicle