GAIL MARKFERDING KNOWLES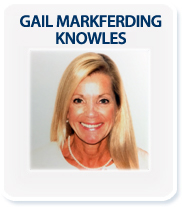 Gail brings 30 years of small business accounting, bookkeeping, and merchandising experience to her role at True North Logistics.
Gail is a former Arthur Andersen & Co. Small Business Division Auditor. Her four years as an auditor focused on working on-site with small business clients conducting inventory counts, auditing current year accounting records, and preparing each entity for year-end closing.
After leaving Arthur Andersen and moving to Boston, Chicago, New Jersey, and South Carolina, Gail worked for H&R Block, preparing personal tax returns, and managed bookkeeping and accounting services for several small retailers, dentists, doctors, and a small construction company. Gail also spent five years as the Financial Coordinator for a large dental practice in South Carolina.
Gail has extensive experience in payroll processing, payroll tax filing, sales tax filing, bank and credit card reconciliations, accounts receivable, accounts payable, invoicing, construction estimates, and progress accounting for construction projects. She has over seven years of QuickBooks experience with a focus in construction, small retail businesses, and dental.
Gail has over 10 years of merchandising and sales experience working on military bases at several Coast Guard, Naval Weapons and Airforce military commissaries in the greater Charleston, South Carolina area. She worked closely with store personnel to present many product lines in a manner that would maximize dollar and unit sales. The product lines Gail represented included fine jewelry, gaming consoles, gaming software, magazines, books, sunglasses, reading glasses, candy, and gum.
Gail holds her Bachelor of Science in Accounting from Fairleigh Dickinson University and completed an RHIT (Registered Health Information Technology) Degree from Passaic County College in 2002.