GINA MCKILLOP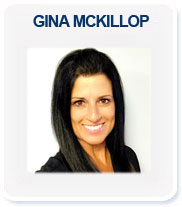 Gina McKillop serves as True North Logistics Office & Special Projects Manager. She brings a wealth of knowledge and is responsible for the day-to-day operation and management of our office. Among her many duties are office manager, contract administrator, customer liaison, travel coordinator, training administrator, billing & accounting administrator and event planning coordinator.
Since joining the True North Logistics team, Ms. McKillop has attended numerous educational and outreach events to broaden her knowledge of Government contracting and to fully understand the scope of opportunities that are available to our clients. With the assigned Capture Specialist, Ms. McKillop develops the specific profile for each new client to assure they receive the best possible cross-section of business opportunities.
Her organizational skills and client communications continue to keep our True North Team running smoothly and provide a perfect foundation for working with all of our clients here at True North.