KRISTA MCLAUGHLIN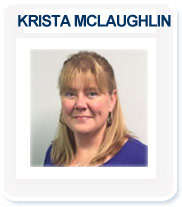 Krista has over 20 years of experience in commercial and military customer service with significant experience in building strong business relationships. She offers extensive knowledge in bid proposals, contract administration, purchasing, and program management. She has successfully secured new business opportunities through various government contracting activities including Army TACOM and the Defense Logistics Agency (DLA), with further success in securing new business with large and small original equipment manufacturers (OEMs).
Krista has worked in various types of manufacturing environments including electronics and electro-mechanical assemblies, cables and wiring harnesses, metal fabrication, and plastic injection molding. Krista specializes in bill of material (BOM) creation, material sourcing and estimates, and she fully understands product structure, material requirements, and the complete manufacturing process. Her background includes overseeing the sales department for Government and OEM business accounts, managing cost, schedule, and performance requirements through all phases of a given program from inception to completion.
Krista holds a Bachelor of Business Administration degree from Baker College of Business and an Associate's degree in Marketing. She brings energy, creativity, dedication, and defense industry experience to True North. Combined with her structural knowledge in manufacturing, she is able to ensure that the specific needs of the customer's requirements are being met.