MAJOR GENERAL BRADLEY M. LOTT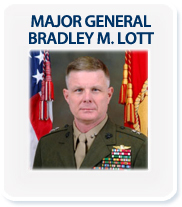 Bradley M. Lott, Major General, U.S. Marine Corps (Ret) is CEO and Owner of True North Logistics, a consulting firm in St. Clair County Michigan that is primarily focused on assisting Michigan businesses in Defense and Homeland Security contracting. In his most previous position he served as Executive Director of the Defense Contract Coordination Center, a division under the State of Michigan's economic development arm, the Michigan Economic Development Corporation. His charge was to lead the DC3 to successfully capture more federal spend in Michigan, matching Michigan companies with defense and homeland security opportunities.
General Lott retired from the US Marine Corps in January 2006 after having completed 34 years in the Corps. His last Marine Corps assignment was as the Deputy Commanding General, Marine Corps Combat Development Command, Quantico, Virginia. Additionally, he served as the Marine Corps Principal Representative to the Joint Capabilities Board, which supports the Assistant Commandant of the Marine Corps and the Vice Chairman of the Joint Chiefs of Staff in carrying out their responsibilities with the Joint Requirements Oversight Council.
General Lott was commissioned through the Officer Candidates School in 1972. After completing The Basic School, he was assigned to the 2d Marine Division and later with Force Troops, Atlantic. In 1976 he was assigned to 9th Marine Regiment, 3d Marine Division.
During January 1979, General Lott was assigned to the staff of Officer Candidates School while awaiting the start of Amphibious Warfare School (AWS). Upon completion of AWS, he transferred to the 1st Force Service Support Group where he served as a Company Commander. In 1982, he was promoted to Major and assigned as a Battalion Executive Officer.
In 1983, he was assigned to the Joint U.S. Military Assistance Group-Korea as the Security Assistance Officer where he managed the contracts and accounts for major equipment and ammunition acquisition for the Republic of Korea Naval-Marine Forces.
In 1985, General Lott attended the Marine Corps Command and Staff College, followed by an assignment in the 1st Force Service Support Group. After promotion to Lieutenant Colonel in 1989, he assumed command of MEU Service Support Group 13 and deployed to the Western Pacific where he participated in humanitarian relief operations in the Republic of the Philippines and in Operations Desert Shield and Desert Storm in the Middle East.
Upon returning to CONUS in 1991, General Lott was assigned as the Director, Materiel Division, Marine Corps Logistics Base, Albany, Georgia and then Commander, Defense Distribution Depot, Albany, Georgia, followed by attendance at the Industrial College of the Armed Forces. Following graduation in 1993, he was promoted to Colonel and assigned as the Deputy Executive Director, Strategic Programming and Contingency Operations at the Defense Logistics Agency. During the fall of 1994, General Lott deployed to Haiti as the Chief of Staff, Joint Logistics Support Command, Multi-National Force. Following this tour, he was assigned as the Executive Assistant to the Deputy Chief of Staff, Installations and Logistics at Headquarters, U.S. Marine Corps while serving concurrently as the Director of Logistics Plans and Policy Analysis.
In June 1996, General Lott reported to 3d Force Service Support Group where he assumed command of 3d Support Battalion and served concurrently as the Commanding Officer, FSSG (Forward). Following command, he reported to Marine Corps Base, Camp Butler as the Assistant Chief of Staff, Marine Corps Community Services. In July 1999, he was promoted to Brigadier General and assumed command of the First Force Service Support Group where he remained until June of 2001. During this same period he also served one rotation as the Commanding General, Coalition/Joint Task Force, Kuwait.
In July 2001, General Lott took command of Marine Corps Materiel Command, Albany, Georgia, later renamed Marine Corps Logistics Command, and remained there through June of 2003. He was promoted to Major General in September of 2002.
General Lott holds a Bachelor of Science degree from the University of West Florida and a Master of Science degree from the University of Southern California and is a graduate of the National Security Program at Harvard University. His military decorations include the Defense Superior Service Medal, Legion of Merit with gold star, Defense Meritorious Service Medal, Meritorious Service Medal, Navy and Marine Corps Commendation Medal, Army Commendation Medal, Navy and Marine Corps Achievement Medal, Combat Action Ribbon, Joint Meritorious Unit Award, Navy Unit Citation, Meritorious Unit Commendation, and he wears the Navy/Marine Corps Parachutist insignia.