ADVS Delivers Armored Personnel Carriers to Kuwait Ministry of Interiors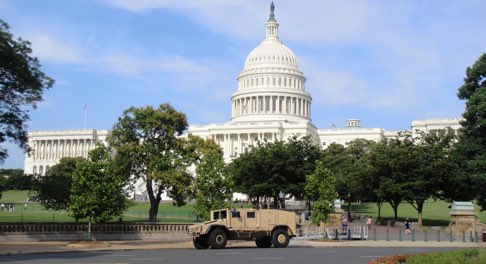 Lake Orion, MI – January 13, 2011 Advanced Defense Vehicle Systems (ADVS) announces today, the first production delivery of the ADVS 6x6x6 Desert Chameleon armored personnel carriers to the Kuwait Ministry of Interior (KMOI). ADVS began discussions with the KMOI in 2007 to design a security vehicle able to meet their specific mobility, survivability, and performance requirements. ADVS designed, manufactured, tested, and completed the vehicles for delivery by fall 2010, a less-than three year full development to production timeline duration.
The ADVS 6x6x6 Desert Chameleon vehicle specs include a removable "V" hull design with adaptable armor modules to increase blast dispersion and survivability, a 600-horsepower Caterpillar engine power-pack, a fully independent active suspension system and a speed sensitive all-wheel steering system. These advanced wheeled vehicles offer the most innovative design and safety features, surpassing current U.S. Army military vehicles in terms of maneuverability, capability, performance, comfort and survivability.
James LeBlanc Sr., founder and CEO of ADVS, stated, "The engineering, design and workmanship of these ten-person vehicles will provide the capability desired by the Kuwaiti government to effectively complete missions in challenging environments on desert sand and extreme temperature conditions and to safely maneuver in heavily populated areas." Under this program, SupplyCore, a leader in supply chain management and distribution of tactical vehicle spare parts, assisted in the procurement and supply chain management of production and aftermarket parts for the ADVS 6X6X6 Desert Chameleon. In addition, True North Logistics, a Michigan based logistics firm, assisted with the distribution and management of vehicle parts during vehicle production.
About ADVS
ADVS specializes in designing, engineering and manufacturing defense vehicles for current and future requirements of the military, homeland defense, and national security markets. ADVS and their principles have been working with the U.S. and international governments for over 40 years in the development of security and tactical vehicles. ADVS also provides program management, field service, logistics, training, manual support, and spare parts for tactical vehicles. ADVS' innovative vehicle product features plus extensive experience contributes highly to mission efficiency and increased survivability.
For more information, visit www.advs.com
About SupplyCore
SupplyCore helps the armed services and the DLA improve their supply chain performance and eliminate waste while providing superior service to the warfighter. SupplyCore has spent over twenty years streamlining and improving its technological processes and its supply chain, which translates into more efficient purchasing for the federal government.
For more information, visit www.supplycore.com
About True North Logistics
Bradley M Lott, Major General, U.S. Marine Corps (Ret) is CEO and Owner of True North Logistics, a consulting firm in Port Huron, Michigan that focuses primarily on assisting Michigan businesses in Defense and Homeland Security contracting. True North Logistics specializes in supply chain management, tactical panning and government contracting assistance.
For more information, visit www.truenorthco.com
Media Contact
Major General M. Lott, USMC (Ret)
CEO True North Logistics
810-966-8987